Over the last couple of years. Google+ has started to really expand its horizons when it comes to networking and usability.
When it first came out. It was exciting, but that excitement quickly died down. It wasn't until recently that I really started to see the power that Google+ has. I could list all of the benefits to increasing your google+ followers…but I'm willing to wager if you're reading this post; you already know many of them.
The biggest problem with getting more followers the old fashioned way is it is incredibly time consuming. If only there were a way to add a bunch of people with similar interests at once…
HUZZAH! There is!
In this article, you're going to find out how to get more google+ followers in the fastest (and legitimate) way that I know how. I'm even going to break it down in a easy to digest steps so you can always come back to this post if you need a refresher.
How to Get More Google+ Followers
(I'll be under the impression that you already have a Google+ account. So if you don't have one… get one.)
This site is a diamond in the rough. And the best part is it's 100% free.
Click the "Specials" tab. Then the "Circles" tab. Then finally the "Engaging" tab.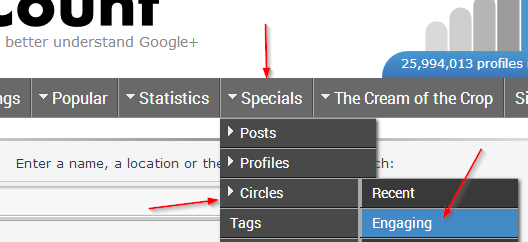 2.) Search for a Shared Circle
On the next screen. Under "Search for a Shared Cicle:" type in something related to your industry. For example I put in "Marketing" or "Entrepreneurs".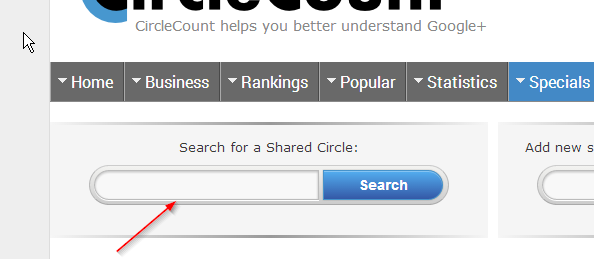 3.) Open a Circle
You'll see a handful of shared circles that show up after you do your search. The key here is to find the ones with the most profiles, reshares and comments.
Once you find the one you want, click "Open Circle".
4.) Add the Circle
I would like to point out that it's beneficial to read what the person is saying about their circle share. Some of them ask that you comment or plus the share. And others ask you to reshare. Remember you want people to do you the same favor down the road.
Scroll down the share until you see the Add People box. Click it.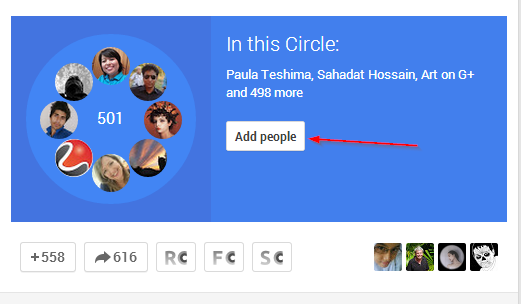 5.) Add Them to a Circle
At the time of my posting this. All you need to do is type the name of the circle you want to add them to. If you don't already have one. It will create it for you. After you have the circle name set, just click "Create or Add to Circles".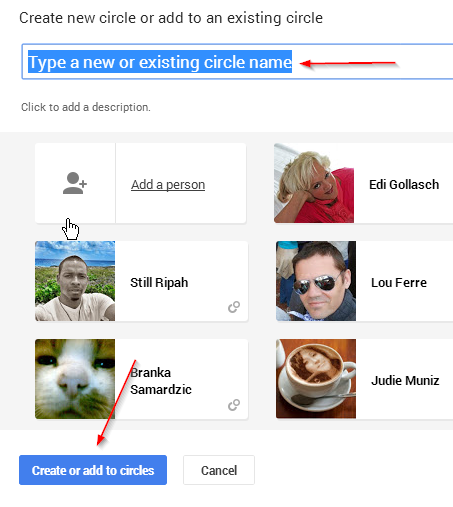 WARNING: You can follow 1,000 people a day on Google+. So once you add a circle or two, you will end up getting a message stating you have to wait until the next day to do it again.
Something I want to mention is that you DON'T want to be that guy that has 500 followers…but is following 20,000 people. So make sure you keep tabs on the people who don't follow you back and remove them over a certain period of time.
I usually give them about a 2-3 days before deciding to nix them off my list.
To do it manually can be a pain in the ass. So I actually use a tool called Circloscope. It's $47 a year for the "pro" version and it allows you to effortlessly prune your followers and manage your contacts in google+. The free version is still quite good as well. (No, that is not an affiliate link.)
And that's your first step to get more Google+ followers…
But you're not done yet if you really want to take advantage and do things effectively.
In the next article, I will be talking about how to create your own circle shares in google+ so people can start adding you automatically. (Plus it gives you a little street cred in the process as a go-getter and action taker.)
The following two tabs change content below.
Doug Johnson is the Founder of Ctrl-Alt-Success.com. He takes pride in helping people succeed in their marketing endeavors. If you're looking to generate more traffic, find additional revenue streams or just a shift in mindset, he can help. Add him to Skype at http://skype.ctrl-alt-success.com or give him a call: 563-277-7457
Latest posts by Doug Johnson (see all)